FED DECISION KEY POINTS:
The Fed votes to raise its benchmark rate by 25 basis points to a range of 5.00% to 5.25%, a move broadly consistent with market expectations
The decision to push ahead with another hike is part of the efforts to restore price stability, with inflation well above the central bank's 2.0% target
The FOMC guidance signals a pause in the tightening cycle
MARKET REACTION
Updated at 3:25 pm ET
S&P 500 futures initially advanced after the Fed signaled a possible pause in rate hikes, but then turned lower during Powell's press conference following comments that policymakers do not foresee cutting borrowing costs this year, given the view that inflation will not come down fast enough to warrant such action. If this message sticks on Wall Street, the equity market could be in for a rude awakening soon.
S&P 500 FUTURES 5-MINUTE CHART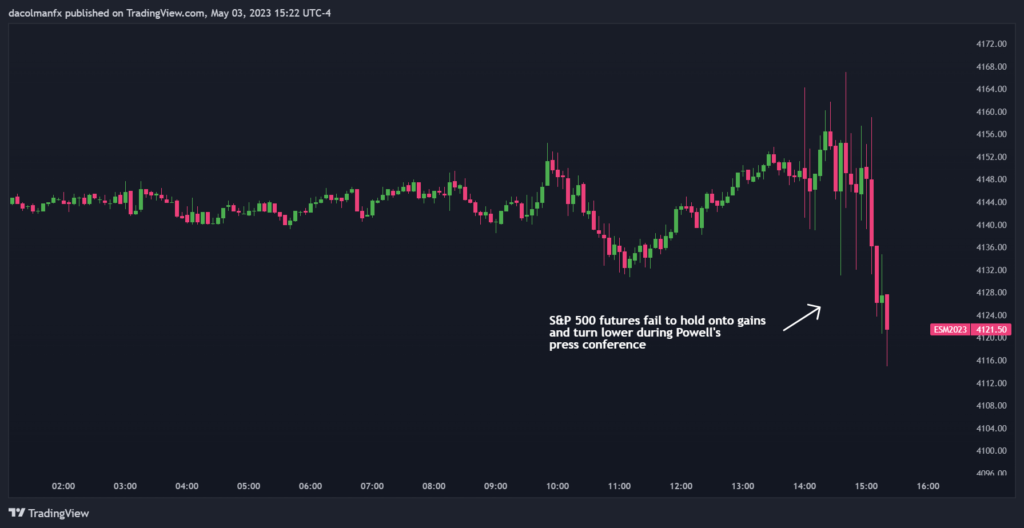 Source: TradingView
Updated at 2:30 pm ET
Immediately after the FOMC announcement crossed the wires, the U.S. dollar, as measured by the DXY index, deepened session losses, while S&P 500 futures extended gains, with traders welcoming the Fed's move to flag a potential pause in the tightening campaign.
US DOLLAR INDEX & S&P 500 5-MINUTES CHART
Original article published at 2:10 pm ET
The Federal Reserve today concluded one of its most anticipated meetings in recent times and voted unanimously to increase its benchmark interest rates by 25 basis points to a range of 5.00% to 5.25%, the highest band and thus the most restrictive policy stance since 2007.
The Fed's decision to press ahead with another hike was broadly expected leading up to Wednesday's announcement and is part of the central bank's aggressive efforts to restore price stability in the economy, with headline inflation sitting at 5.0% in March, well above the long-term 2.0% target.
FED DECISION AT A GLANCE